HKU Robocon Team
Official site: https://innowing.hk/robocon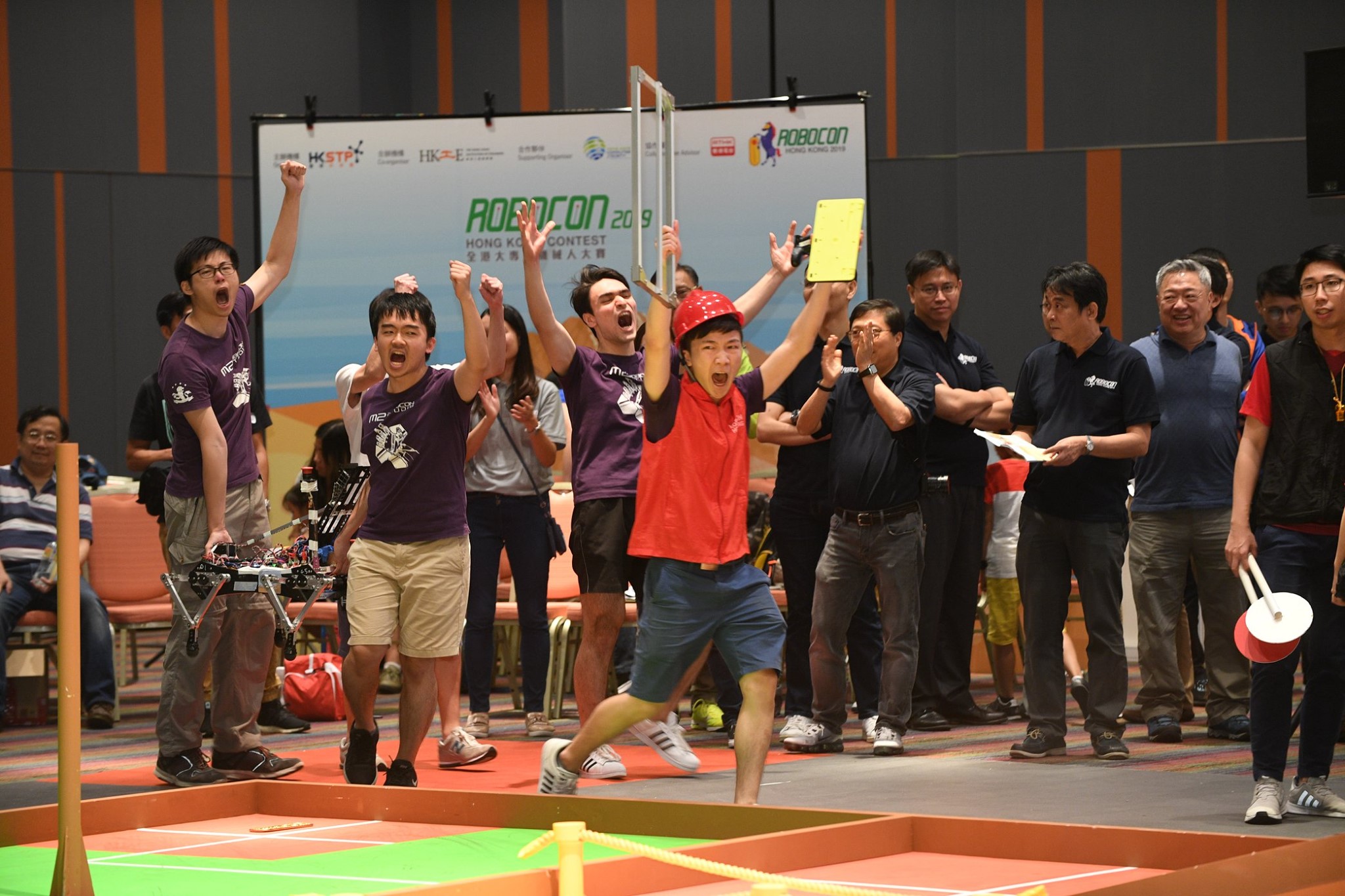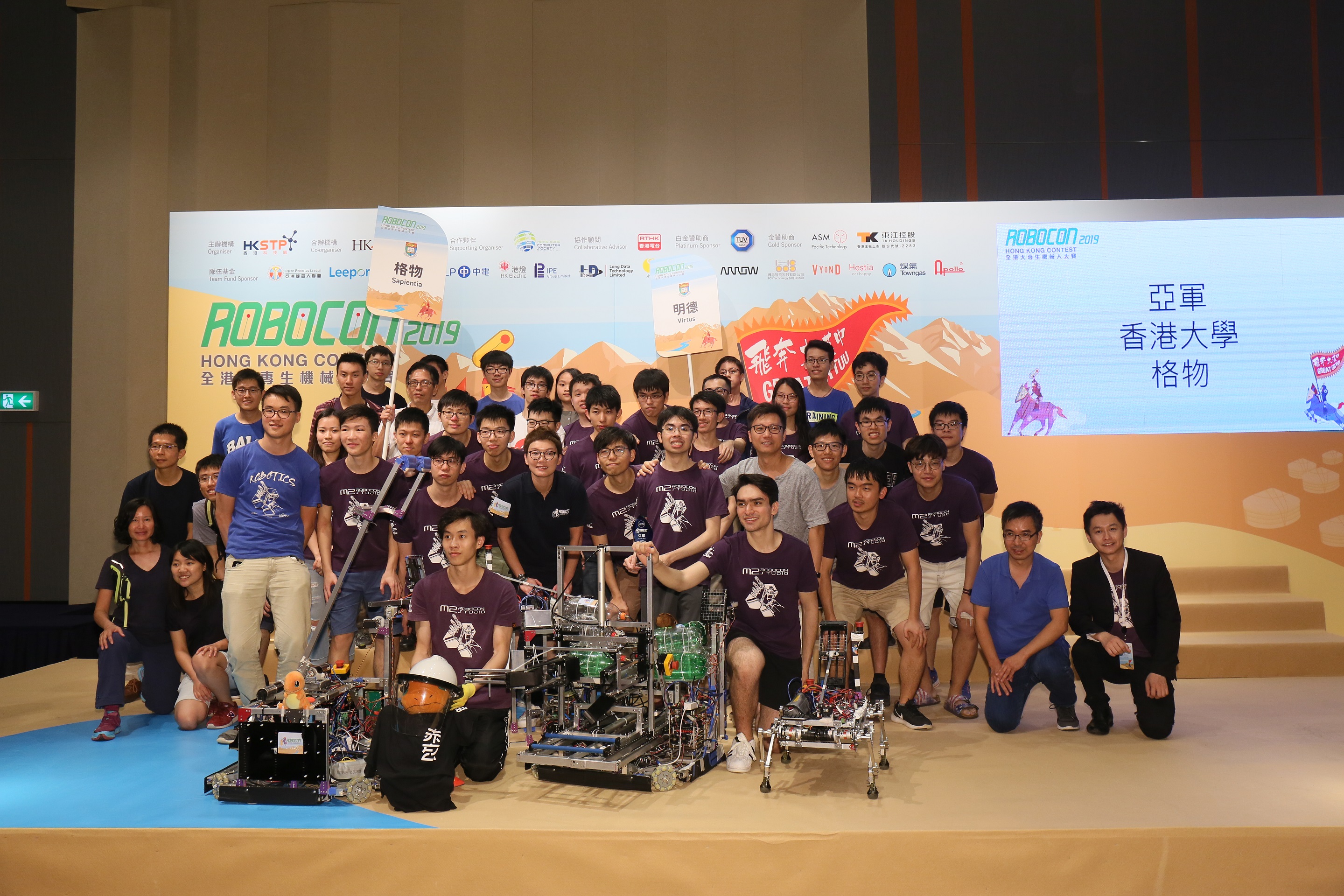 About us
We are a robotic team formed in 2004 to represent HKU to participate in the ABU robocon competition. Since its establishment, and had won Champion 4 times, 1st runner up 5 times and 2nd runner up 3 times in local competition, and 1st runner up once in international competition in the past 16 years. We are looking forward to win more awards for HKU in upcoming competition. Our members mainly come from the Department of Electrical and Electronic Engineering, Department of Mechanical Engineering and Department of Computer Science. We also welcome students not from Engineering Faculty to join us as long as you are passionate and willing to work hard in robotics.
Team Application
It is recommended that you should know us more before joining our team. We do not require prior experience to join our team. We would provide you with the corresponding training program according to your knowledge level.
You may need more time to finish since we would ask you technical questions so as to let us know more about your knowledge level. If the questions are out of your knowledge level, please search it online for the answer.
DO NOT TYPE "I dont know" in any of the questions or you may not get accepted into the team
You can join our team through filling in this Google Form.
Deadline: 6th October, 2021
Student Initiated Course (SIC)
(Disclaimer: SIC is pending for approval. Any claim made here is subject to changes.)
This course is hosted by HKU Robocon Team and co-organized with HKU Breed Team. This is used to serve to be a formal training before entering HKU Robocon Team and/or HKU Breed Team. This course is completely project based. There would be many hands on experience being involved in engineering design. There would be two streams of choices:
Mechanical Stream
Electronics and Programming Stream
General Information:
Proposed Course Title: Introduction to Practical Robotics System Design and Control
Proposed Date: 5/10/2021 - 25/11/2022 (Tue & Thur)
Proposed Time: 7pm - 9pm
Venue: Inside Tam Win Fan Innovation Wing
For more detailed information, please read the following summarized syllabus for the course content.
Deadline: 12pm 1st October, 2021
Explore your limits
If you want to explore your limit here, then do not hesitate to apply. You will gain valuable experience in practical work and knowledge in the related fields, such as operating machines, working with circuit boards, and developing codes.
Do not worry even If you have little prior knowledge about the technical skills. We highly value the persistence and hard work contributed by the members.
Tip: Don't be afraid of the questions
Don't worry when reading the technical questions in this form! We understand and fully expect that you may have not even heard of many of the technical terms in the questions, but so were we (current team members) when we first joined the team.
These technical questions are placed here to give you a "sense" of what problems we will face during our preparation of the contest. It is totally normal if you don't know how to answer them right now. You are here to learn!
Contact us
Contact us via Instagram (hku_robocon) or Facebook (m2.robotics) for any inquiries. Both successful and unsuccessful applicants will be notified via email. Further training activities would be announced in our Telegram group.
Training
You would be trained according to your knowledge level that we see in the team application form. You may be redirected to the Student Initiated Course or we would provide you with a separate set of training materials to do. We would notify you on how you would be trained.
The training contains materials that are mostly expected to be self-learned by the trainees and complete the tutorial tasks.
Programming Team Trainees : Focus on control theories and Robot Operating System (ROS)
Electronics Team Trainees : Focus on electronic design, circuit theories, MCU firmware programming and master the use of PCB CAD software
Mechanical Design Training : Focus on mechanical design and how to use Solidworks.
Those who could endure our intensive training scheme and passed the final test will be admitted into our team as an official member.
Expectations and Commitments
We have high expectations between ourselves as we always strive to be the best not only amongst our peers in HKU but amongst other engineering students in Hong Kong. On normal school days, our team members commit most of their free time working inside HKU Robocon Team and learn more knowledge and skills related to M2. Our members are also diligent and actively seeks out problems and imperfections and work to remove them. During both winter and summer breaks, most of our core members will stay in the studio and work a full day as winter break allows us to work without getting interrupted by other school works. Like how 1st Viscount Nelson once said: "England expects that every man will do his duty." HKU Robocon Team expects every member to give their best and fight for HKU in ABU Robocon Competition.